A trial of an at-home human papillomavirus (HPV) swab test has begun in London, United Kingdom, as part of an initiative to increase uptake of cervical screening.
The trial will involve 31,000 women aged 25–64 years who are either 15 months overdue for a check or are attending an appointment with their family doctor and are at least 6 months overdue. As estimated 19,000 women will be mailed a kit, and a further 12,000 will be given one by their family doctor before the end of the year.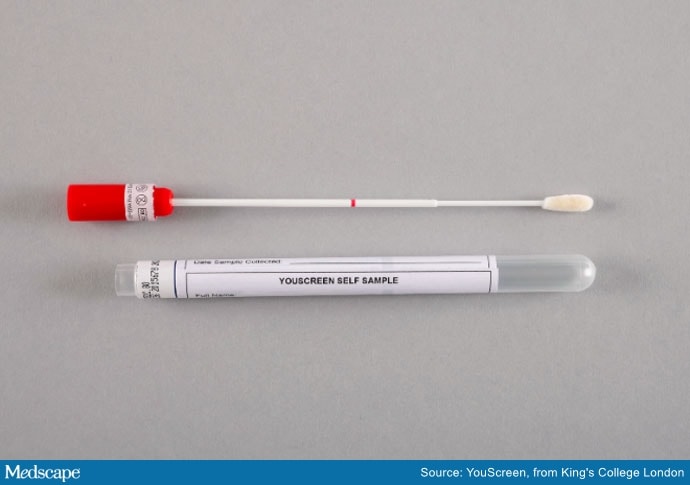 At-home HPV swab test.
Women who receive the kit will be able to access a video explaining how to carry out the test at home.
"Self-sampling is a game-changer for cervical screening," said study lead Anita Lim, PhD, senior epidemiologist, King's College London, London, United Kingdom, in a statement.
She noted that almost half of women in some parts of London aren't up to date with their cervical screening. She said "many women" are not attending appointments ― "It's an intimate procedure, and a variety of barriers can stop people from attending, even though it can be a life-saving test."
Previous research has shown that embarrassment is a common reason why women do not undergo a smear test. There are also cultural barriers, physical and practical reasons for not being tested, and fear over what the test entails.
Home swabs tests are seen as a simple way for women to do the test themselves, rather than have it done for them by a general practice nurse. A previous study found that 99% of women can carry out a self-swab effectively, Lim noted.
"Women who don't come for regular screening are at the highest risk of developing cervical cancer," she underlined. "It is crucial that we find ways to make cervical screening easier for women to ensure that they are protected from what is a largely preventable cancer."
"Self-sampling removes so many of the challenges to cervical screening, and through our research, we know it is very much wanted by women," commented Kate Sanger, head of policy and communications at the UK charity Jo's Cervical Cancer Trust.
"It has been fantastic to be part of this study, and we hope it leads to change that will save lives and the trauma a cervical cancer diagnosis can bring," she said.
Self-sampling Kit by Post
The YouScreen initiative was launched by the National Health Service (NHS) in England on February 24.
After completing the self-sampling at home, women will mail the completed kit to the NHS Cervical Screening Programme laboratory in London. The results are mailed to the women and their family doctor. Women who are found to be HPV positive will be invited to present to their general practitioner for a standard cervical smear test; otherwise, they will be recalled in 3 or 5 years for another check, depending on their age.
The process is similar to the current policy in England regarding screening for colorectal cancer; individuals older than 60 years are mailed fecal immunohistology tests to their home, and the completed sampling kit is returned by post.
"This is an important new way to make screening easier for thousands of women," said Peter Johnson, MD, PhD, national clinical director for cancer at NHS England.
"We know there are lots of reasons why women might not attend a screening appointment, including worries about COVID. GPs have taken extra precautions to make surgeries safe, and these home kits give thousands of women another option to keep up to date with their screening."
Ruth Stubbs, National Cervical Screening Programme manager at Public Health England (PHE), said: "London has the lowest cervical screening coverage in the country and is ideal for testing this study."
She added that PHE is working with a number of organizations on a "clinical validation study to inform a larger national evaluation of HPV self-sampling at home."
Together with the results of the current analysis, that study will provide data "on the potential impact of offering HPV self-sampling on the prevention and early detection of cervical cancer."
No funding for the study has been disclosed. The authors have disclosed no relevant financial relationships.
For more from Medscape Oncology, join us on Twitter and Facebook.
Source: Read Full Article