A report urging legislation to allow Medicare to negotiate with pharmaceutical companies on drug prices was adopted November 15 by the American Medical Association (AMA) House of Delegates.
The report also calls on the AMA to "support indexing Medicare Part D drug prices to a reasonable percentage of the prices paid in other large, western industrial nations."
Testimony from delegates at the this month's AMA Special Meeting showed consensus and frustration that out-of-control drug prices are obstructing patients' access to medications they need.
Several noted the resolution is timely as drug price negotiations are gaining traction in Congress. Congressional Democrats are working toward a drug-price compromise that would allow Medicare to negotiate some prices.
A Kaiser Family Foundation issue brief in August analyzed one of the proposals, House bill H.R.3, and projected that "Under drug price negotiation, premium savings for Medicare beneficiaries are projected to increase from an estimated 9% of the Part D base beneficiary premium in 2023 to 15% in 2029."
Additionally, there is momentum regarding public sentiment for negotiations. A recent Kaiser Family Foundation poll found that 83% of voters across political parties favor directing the federal government to negotiate drug prices.
An original provision in the report proposed that AMA support legislation that reinvests part of any savings from Medicare drug price negotiation into the Medicare physician fee schedule and other Medicare physician value-based payments.
That provision was removed after comments in the reference committee that the optics would be poor if Medicare negotiating lower drug prices was seen as being linked with raising physicians' pay.
Increasing Patient Access to Needed Medications
Former AMA president Barbara McAneny, MD, an oncologist in Albuquerque, New Mexico who works with a largely underserved area, spoke against using the international pricing index, citing specifically potential effects on Part B drugs.
McAneny, speaking for herself, said in a reference committee session: "I just worked with a group of patient advocates and other specialty societies to get rid of this law in New Mexico when it was proposed.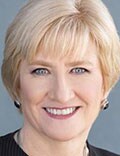 Dr Barbara McAneny
"The reason is that it is not clear where the limit on pricing would occur. And many providers, particularly of part B drugs — expensive infusion therapies — purchase those drugs. And then if we are reimbursed less than the purchase price — in other words, if cost containment is put on the far end of the supply chain — then we've ended up very soon being unable to deliver those drugs to the patients who need them."
She said using an international pricing index would "tie the hands of the AMA" because the index could end up "making it impossible for people to deliver those drugs to patients."
Jay Gregory, MD, a surgeon and delegate from Oklahoma, pointed to statistics indicating that the pricing problem in the US starts internationally: "80% of the active pharmaceutical ingredients come from China and India; 40% of the over-the-counter medication in America comes from India."
He said he shares McAneny's concerns about the oncology medications and their exorbitant costs that burden patients, and the concern about their fate under an international pricing index.
Atlanta oncologist Len Lichtenfeld, MD, delegate from the American College of Physicians, but speaking for himself, said physicians should "be sure as we move forward in this that physicians who provide drugs to their patients under the Part B program be held harmless from any negative consequences" if they had to pay substantially more than their reimbursement for purchasing the drugs.
Barbara Weissman, MD, an alternate delegate from California, said she hoped delegates would pass the resolution "so that AMA can get off the sidelines and support legislation that's currently in Congress."
The report adds caveats to address concerns about the international pricing index (IPI), including that any IPI model "should exclude countries that have single-payer health systems and use price controls" and should not be used in isolation to set a drug's price.
Additionally, the use of such an index should preserve patients' access to necessary medications and limit burdens on physicians, the report states.
Marcia Frellick is a freelance journalist based in Chicago. She has previously written for the Chicago Tribune, Science News, and Nurse.com, and was an editor at the Chicago Sun-Times, the Cincinnati Enquirer, and the St. Cloud (Minnesota) Times. Follow her on Twitter at @mfrellick.
For more news, follow Medscape on Facebook, Twitter, Instagram, YouTube, and LinkedIn
Source: Read Full Article