There's no contesting that allergy season is annoying AF. You're supposed to *finally* be running outside again or picnicking in the park, but instead, you're stuck inside trying (key word) to breathe through snot and see through watery, itchy eyes.
And if it feels like your allergies have gotten worse the last few years, you're not wrong. After a consistent increase in the intensity and length of allergy season over the last several years (you can blame climate change), allergy season 2020 will likely be worse than usual or potentially the most intense and longest yet if the trend continues. Whomp, whomp.
Allergy symptoms—those watery eyes and stuffy nose, along with sneezing fits, coughing, wheezing, and hive- or eczema-like rashes—happen when your immune system essentially freaks out over an otherwise harmless substance (like pollen). Delightful, huh?
But even if the above symptoms sound all too familiar, there is good news: You can fight back against allergies—and the sooner you get started the better. That means knowing when exactly allergy season will start this year, and how to prep your body for any allergen invaders.
Okay, so when does allergy season 2020 start?
Well, it's technically *always* allergy season due to year-round offenders such as dust mites, mold, and pet dander, says Purvi Parikh, MD, an allergist and immunologist with Allergy & Asthma Network. But some allergens–pollens, specifically—are seasonal.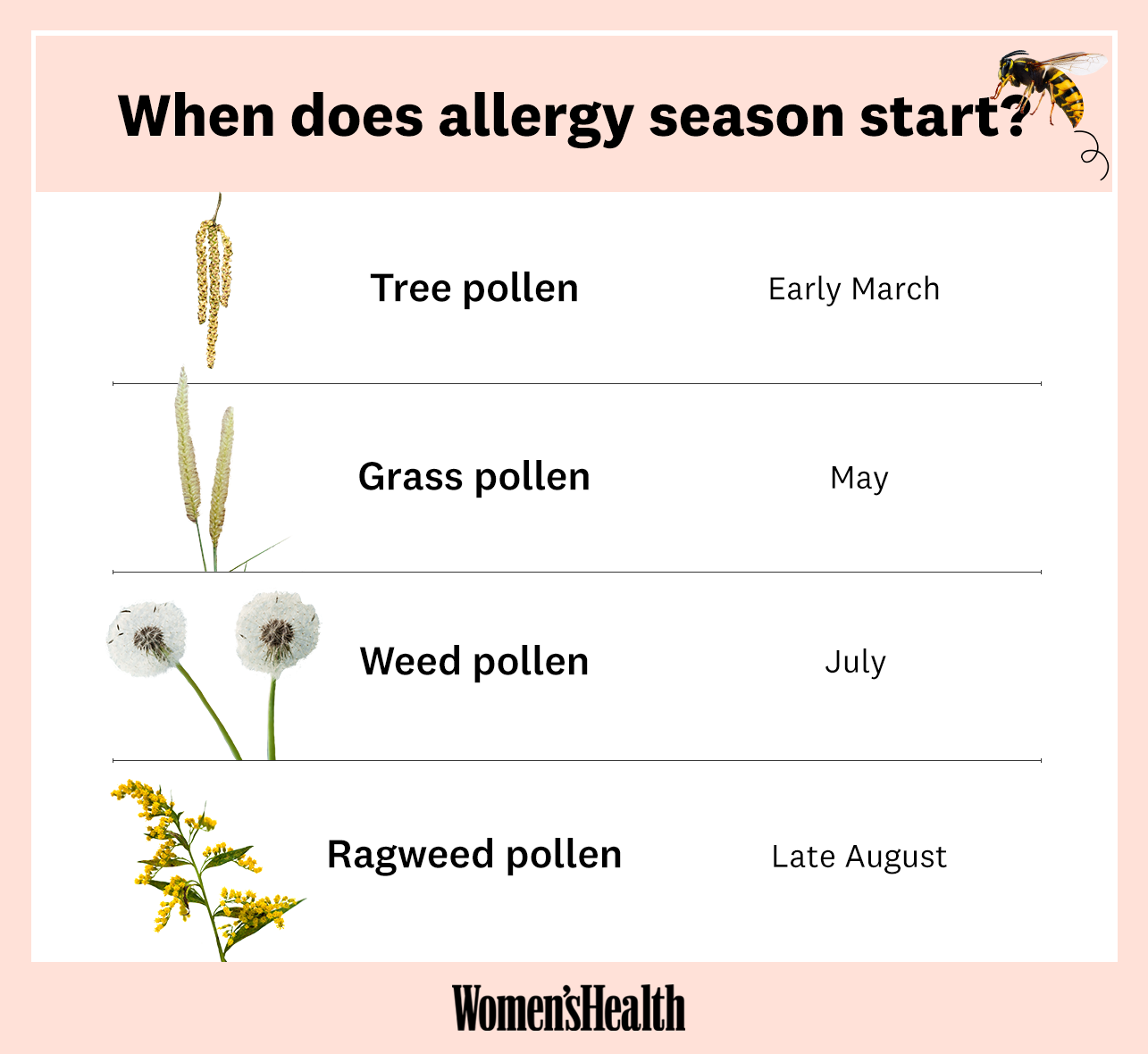 Jewelyn Butron
Tree pollen, for example, pops up in the spring (generally in late March to April), grass pollen arrives in the late spring (around May), weed pollen is most prevalent in the summer (July to August), and ragweed pollen takes over from summer to fall (late August to the first frost), says Dr. Parikh.
And even worse news: Climate change means allergy season begins earlier and lasts longer, adds Corinne Keet, MD, PhD, a professor and allergist at Johns Hopkins University School of Medicine.
To get super-specific, Pollen.com has a National Allergy Map that provides an up-to-date allergy forecast in different areas around the country and an Allergy Alert app that gives five-day forecasts with in-depth info on specific allergens, helping you decide if you should stay indoors that day.
Certain areas have also seen a particularly big increase in pollen during allergy season. In 2019, the New York Times reported on the extreme blankets of pollen that hit North Carolina; Georgia and Chicago also faced especially aggressive allergy seasons too. In Alaska, temperatures are rising so quickly (as in many other far northern countries), that the pollen count and season duration are seeing unprecedented growth.
What does that mean for my allergy meds? When should I start taking them?
There's no point in waiting until you're miserable to take allergy meds, especially if you want to keep up your outdoor workouts.
In fact, allergists recommend you start taking meds a couple weeks before allergy season arrives, or, at the latest, take them the moment you begin having symptoms, says Dr. Parikh. Taking them early can stop an immune system freak-out before it happens, lessening the severity of symptoms, he adds. Check out the National Allergy Map to figure out when to start taking meds depending on where you live.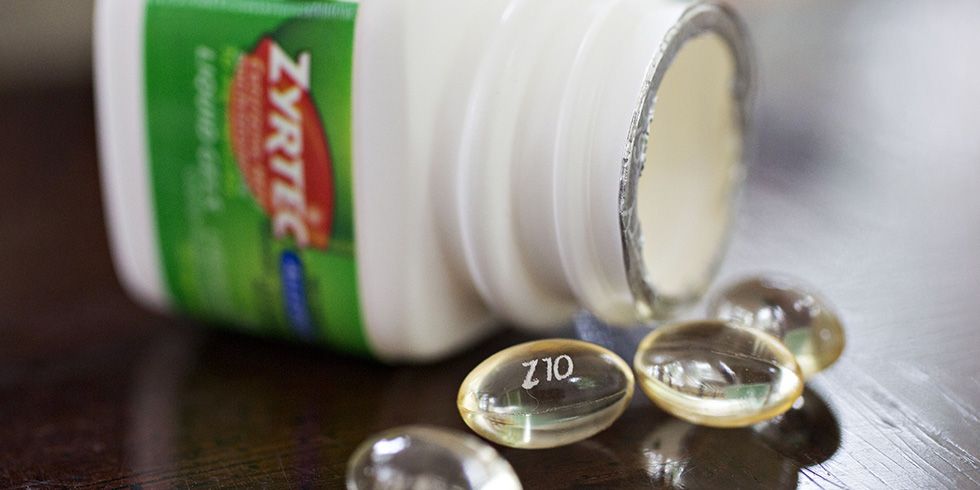 As for which allergy meds to take, if you're seriously stuffed, start with steroid nasal sprays such as Flonase or Rhinocort, which reduce inflammation-induced stuffiness, says Dr. Keet. And if you've got itching, sneezing, and a runny nose, too, look for non-sedating antihistamines such as Zyrtec, Xyzal, or Allegra, she adds. Just remember: While OTC allergy meds suppress symptoms, they don't cure the problem, so they may be less effective if your allergies are worsening, notes Dr. Parikh.
What can I do if my allergy meds aren't working…or my allergies are getting worse?
If you're already taking OTC allergy meds (and, you know, keeping your windows closed and washing your face and hair after coming inside), allergy shots, a.k.a. allergen immunotherapy, make your immune system less reactive to allergens (read: pollen), and for some people, they can even induce a cure, says Dr. Parikh.
"By giving small increasing doses of what you are allergic to, you train the immune system to slowly stop being as allergic," she says. "This is the best way to address allergies, as it targets the underlying problem and builds your immunity to a specific allergen."
The downside? Allergy shots are a bit of a time commitment. You'll need to get them once a week for six to eight months, then once a month for a minimum of two years, says Dr. Parikh. You need to be a little bit patient, too, because it can take about six months to start feeling better (so if you want protection by March, you'll probably have to start in September the year before). But a life without allergies? Sounds worth it to me.
Source: Read Full Article