NASHVILLE — There is no negative impact of in utero exposure to antiseizure medications on children's creativity, new research shows.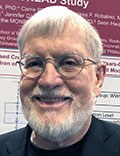 Dr Kimford Meador
The results of this study, along with other research, suggest the risk for cognitive problems "is fairly low" overall for children of women with epilepsy taking lamotrigine or levetiracetam, study investigator, Kimford J. Meador, MD, professor, Department of Neurology & Neurological Sciences, Stanford University School of Medicine, Palo Alto, California, told Medscape Medical News .
"This is another encouraging piece that's showing these new drugs are safe with regard to cognition."
The findings were presented here at the American Epilepsy Society (AES) 2022 Annual Meeting.
Capturing Creativity
Fetal exposure to antiseizure medications can produce adverse neurodevelopmental effects. These are typically assessed using measures such as general intelligence, verbal/nonverbal abilities, or additional educational needs.
However, these measures don't capture creativity, which "is related to intelligence but not completely," said Meador. "I have seen wonderful examples of creativity in people who have a lot of cognitive impairment."
He referred to one of his patients with epilepsy who is "spectacularly good" at painting with watercolors even though she has significant cognitive impairment.
The new analysis is part of the MONEAD study, a prospective, observational multicenter study examining pregnancy outcomes for both mother and child. It included pregnant women who were enrolled at under 20 weeks' gestational age.
The women with epilepsy in the study were primarily on monotherapy (73%) and of these, 82% were on lamotrigine or levetiracetam. About 22% were on polytherapy, of which 42% were on dual therapy with lamotrigine and levetiracetam.
Fluency, Originality
Researchers assessed the children of these women at age 4½ years using the Torrance Test of Creative Thinking-Figural (TTCT-F). This is a standardized assessment of creative thinking with index scores measuring such things as fluency, originality, abstractness, and elaboration.
Meador noted the research team used a shorter version of the test battery "so as to not wear out the families and kids."
During the test, children were given lines of different shapes and asked to draw a picture using these lines. Meador pointed out the drawings ranged from quite basic to more intricate.
One child cleverly turned a few squiggly lines into a car. "I can look at this and say this kid's going to do very well," said Meador.
Investigators compared scores between 241 children of women with epilepsy (WWE) and 65 children of healthy women (HW). They adjusted for the mother's IQ, education level, age at enrollment, gestation age at enrollment, post-birth average anxiety score and the child's ethnicity and sex.
Investigators found the mean TTCT-F scores did not differ significantly between the two groups: adjusted least squares mean of 89.5 (95% CI, 86.7 – 92.3) for children of WWE compared to adjusted least square mean of 92.0 (95% CI, 86.4 – 97.6) for children of HW.
Balancing Act
The researchers haven't looked at a dose effect in this current study, but Meador said it's always "a balancing act" between giving enough of the drug to keep mothers from seizing, which affect both the mother and fetus, and giving as low a dose as possible to protect the fetus.
In addition, as medication levels change during pregnancy, he said he recommends that drug levels are monitored monthly so that medication can be adjusted as necessary.
Looking at what factors might predict creativity scores, researchers found children did less well creatively if their mother didn't have a college degree (estimate -9.5; 95% CI, -17.9 to -1.2; P = .025)
"It looks like being in a home where the mother has had more education is going to have an impact on the kid's thinking and creativity," said Meador.
These new findings are consistent with a lack of differences in other cognitive abilities that Meador and his team found when the children were younger.
"At age 3, we did not find an overall difference in cognitive and verbal abilities, and intelligence, between the children of mothers with epilepsy and those of healthy women," he said.
The researchers aim to assess cognitive and behavioral outcomes in these children when they are 6 years old.
Helpful Information
Commenting on the findings for Medscape Medical News, professor Stéphane Auvin, MD, PhD, chair of the Department of Pediatric Neurology at the University of Paris, France, who co-moderated a platform session featuring the research, said the study "is an interesting measure of the impact of being exposed to antiseizure medications."
Creativity is "complex," he said. "It's not only cognition; it could be things like behavior and impulsivity."
The new information is "very helpful." Focusing on something broader than just IQ "gives you a better picture of what's going on."
The study received funding from NIH, NINDS and NICH. Meador has received grants from NIH/NINDS, NIH/NICHD, Veterans Administration, and Eisai Inc. He has been a consultant for Epilepsy Consortium, Novartis, Supernus, Upsher Smith Labs, and UCB Pharma. Auvin reports no relevant financial relationships.
American Epilepsy Society (AES) 2022 Annual Meeting: Abstract 2.162. Presented December 4, 2022.
For more Medscape Neurology news, join us on Facebook and Twitter
Source: Read Full Article