The last thing Sharni Layton heard as she "netball grabbed" a low-bouncing ball and lined up her first AFLW goal was not the kind of support chanted by the netty nerds in her old "Sharni army".
"Oh it's pretty windy Sharni," the former Australian Diamonds captain and much celebrated goalkeeper – now Collingwood AFLW player – was taunted by her West Coast Eagles opposition in last week's season opener.
Career goal: Sharni Layton is growing in confidence as an AFLW player.Credit:Simon Schluter
Seconds later she was doing an "aeroplane" victory run, an outbreak of joy that went viral. It was a landmark moment for the 32 year-old whose high profile and huge following as a national netball star meant the fall of her mental health before leaving the game in 2018 also made news.
"It was just amazing," Layton said this week of her first goal in her new code (one at which she once declared she "sucked"). "It was a bit two-fold, when I first came into the AFLW it was like I wanted to kick goals and be awesome but I'd been a defender my whole sporting career.
"My first game I knocked out my teammate, gave away a 50 and couldn't read the flight of the ball. I couldn't even get in the right positions to mark. After that I was like, well, I'm not going to be a goalkicker, I'll play in the ruck."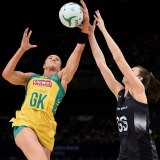 Sharni Layton in action on the netball court.Credit:Dan Himbrechts
It must also have been doubly pleasing for Layton's many fans to see someone whose fierce career they had admired on the court evolve on the field, as well as to witness a person so generous in talking about mental health struggles return to obviously enjoying sport.
"From the moment I came over there was never any judgment; they've always supported me in my journey and my growth in the last two years – just to see how happy they were for me, that's what made me so happy," she says.
Layton, a confessed "perfectionist", has been transparent about the impact of various stressors on her mental health during her netball career, which included moving 13 times in 10 years. She says the goodwill and team spirit around AFLW has been a huge boost, as has the ability to achieve balance between a life on and off field.
"I'm a real community kind of girl and every time you move you leave your friends, family, work … My sister was having her second child and I hated that I hadn't seen the first one – she doesn't even know me. She'd see me on TV and be like, 'Aunty!' and then see me in person and be like, 'Who are you?'
"You'll find with mental health a lot of it is personality driven. I'm a perfectionist, that was my greatest downfall as an athlete. That's why athletes have so many battles, we put everything into our sport. Then one day you go, 'Oh, but who else am I, what else am I?' You have this real identity crisis – so that's the main thing I've overcome really."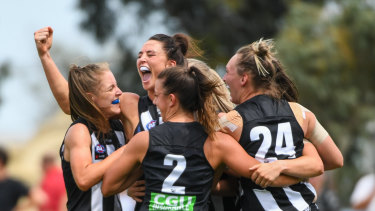 Sharni Layton and teammates celebrate after the Magpies win their 2020 AFLW season opener.Credit:AAP
Layton says words from former AFL player and mental health advocate, Wayne Schwass, at the funeral of former player Danny Frawley, with whom Layton had worked on the Fox Sports football show Bounce,  resonated with her.
"He said such powerful words: whenever his friends say, 'Are you better?' you say, 'Well, I'm me.' You're never going to be 'better', you are your mental habits. And it's how you learn to live with them that makes you a better person … with good mental health."
Layton still has "ups and downs" ("I'm still a perfectionist and still have those things that get me down; but I have a really great psychologist who keeps me on track"). But being back among her Melbourne-based family, having completed a personal training course, having her April wedding to fiance Luke Norder ahead, and being an ambassador for the sustainability organisation the Sports Environment Alliance, has given her a happy balance.
On field, the picture is also rosy.
"Last year I wasn't even a footballer. I think that was quite obvious to tell. This year I've really developed myself. I'm definitely a footballer now. It's great to feel confident on field, know where I'm running and that I can contribute to the team. I really lacked confidence last year and wasn't adding extra value. This year I feel I can add value for my team."
So how does she rate on the (somewhat harsh-sounding) self-assessment scale of footy skills now? "I'm 'OK' now. We've come up a peg in my books. You've got 'I suck', 'I'm OK' and 'I'm amazing', there's no in between. So now, I'm 'OK' at football, which is cool."
Source: Read Full Article